On Sunday, 9 September 2018, the D'Abernon Cup reached the finale and once again the Old Reptonians and Old Reedonians battled it out for silverware.
Teams:
Old Reptonians
1st pair: Phil Brindley and Rich Harrison
2nd pair: Julian Harrison and Dan Cottier
3rd pair: Jamie Muirhead and Alex Grocott
Old Reedonians:
1st pair: Evan Hoyt and Harry Burley
2nd pair: Louis Newman and Brandon Drew
3rd pair: Alex Bull and Josh Miller
Results:
Old Reptonians 1st pair:
lost to Old Reedonians 1st pair 1-6, 1-6
lost to Old Reedonians 2nd pair 6-1, 6-7, 5-10
beat Old Reedonians 3rd pair 6-3, 6-3
Old Reptonians 2nd pair:
lost to Old Reedonians 1st pair 3-6, 0-6
lost to Old Reedonians 2nd pair 3-6, 4-6
beat Old Reedonians 3rd pair 3-6, 7-5, 10-3
Old Reptonians 3rd pair:
lost to Old Reedonians 1st pair 2-6, 1-6
beat Old Reedonians 2nd pair 6-4, 6-4
beat Old Reedonians 3rd pair 2-6, 7-6, 10-5
Overall Old Reedonians win 5-4.
On the hallowed turf of the All England Lawn Tennis Club, the Old Reptonians and Old Reedonians went head to head to decide who would be crowned D'Abernon Cup champions 2018.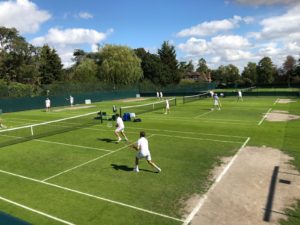 Round 1 commentary
Reeds 1st pair recorded the first win of the day with a strong performance against Repton's 2nd pair. Repton 1's shortly followed up with a win over Reeds 3rd pair with a tightly contested 2nd set with Louis Newman pulling off the shot of the day by hitting a winner whilst sprawled on the ground having taken a tumble running for a short ball.  All eyes turned to the final 1st round match of Reeds 2 vs Repton 3 to determine who would have the edge leading into Round 2.  Repton closed out the match to give Repton a 2-1 lead.
Round 2 commentary
As the teams prepared to get the 2nd round matches underway, the sun broke through the clouds and gave us a last taste of summer sun on the green grass of the AELTC.  Reeds 1st pair continued to impress with a tidy win over Repton levelling the match 2-2.  Meanwhile Reeds 2nd pair dug deep to come back from losing their first set 6-1 to Repton's 1st pair which signalled a key shift in the momentum of the match.  Repton's 2nd pair then responded by narrowly edging the final match of the 2nd round in a championship tie-breaker to take the tie to 3-3 leaving it perfectly poised for the deciding round.
Round 3 commentary
Reeds 1st pair secured three wins from three by chalking the first result of the final round thereby putting the pressure on Repton to respond.  Reeds 2nd pair then secured the win for Reeds by squeezing passed a battling Repton 2nd pair with a 6-4 win in the 2nd set.  With the draw decided, Repton pushed on to make it 5-4 by pipping Reeds 3rd pair 10-5 in the Championship tie-break.
The standard of tennis throughout the day was fantastic with the tie firmly in the balance on several occasions.  Commiserations to Repton for their valiant effort and congratulations to Reeds after avenging their 2017 final defeat.
Our thanks goes to the All England Club once again for hosting the final and providing us the most prestigious of venues to host this fixture.  The Committee's thanks also goes out to all of the teams who participated in the event this year, making it one of the strongest on record.
Ben Gordon-Smith