PSOBLTA v Malahide LTC
Won 3-1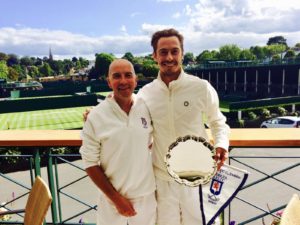 PSOBLTA team:
David Culshaw, Dom Hemy, Ross Niland and Richard Wire
Malahide LTC team:
James Cluskey, Maurice Kenny, Mick Nugent and Alan Rooney
Over the weekend the Pubs hosted the return fixture against our friends from Malahide LTC (club on outskirts of Dublin).  This was a new fixture in 2016 (where the Pubs played in Ireland) and we were delighted that they were keen to keep the fixture going – so much so, the fixture now has a trophy – The Talbot Trophy.
The Malahide team flew over early on Saturday for the tennis match, with some excellent tennis on show from ex-professionals on both sides of the net.  After the Pubs having a barren run of form, it was pleasing to see the Association back to winning ways and secured a 3-1 victory.
Once the tennis was completed, in true fashion the teams decamped and rehydrated themselves at a local bar.  The evening involved venturing to Chelsea before the Irish contingent finding a late night bar in Wimbledon that kept on serving.  However, the sporting contest continued on the Sunday with some golf; which I am pleased to report also resulted in a victory (2&1) to the Pubs!
It was a great weekend by all accounts and we look forward to 2018 where we will head to Dublin and look to retain The Talbot Trophy.
David Culshaw – PSOBLTA Match Manager