PSOBLTA v Law Society
Lost 3-1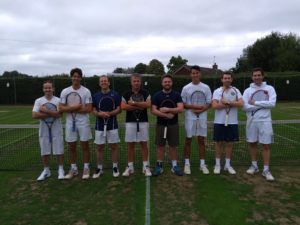 PSOBLTA team:
Jon Basell, Ed Fry, Casper Scheible and Jorge Wilton
Law Society team:
Ed Cooper/Jonathan Cooper, Mike Llewellyn, Peter Morton and Oscar Podlewski
PSOBLTA first pair: Jon Basell and Casper Schieble
beat Jonathan Cooper and Peter Morton 6-3, 3-6, 10-8
lost to Mike Llewellyn and Oscar Podlewski 3-6, 3-6
PSOBLTA second pair: Ed Fry and Jorge Wilton
lost to Ed Cooper and Peter Morton 6-7, 6-2, 5-10
lost to Mike Llewellyn and Oscar Podlewski 2-6, 2-6
You would be forgiven for mistaking the match today as a Pubs v Pubs event as eight of the nine players involved are all Old Boys members – however, officially at this time it was a Law Society victory.  A very strong first pair for the Law Society meant a win would have been a tough order for the Pubs and a couple of tight champions tiebreaks against the second pair left it in the balance between being a draw and a 4-0 whitewash.  Overall it ended 3-1 to the Law Society with each team managing to secure one champions tie break victory each.
Many thanks again to all the players involved, the Law Society for fielding a strong team and being formidable and good-humoured opponents and Epsom LTC for hosting us.
Ed Cooper – PSOBLTA Match Manager