PSOBLTA v International Club of GB
Lost 6-3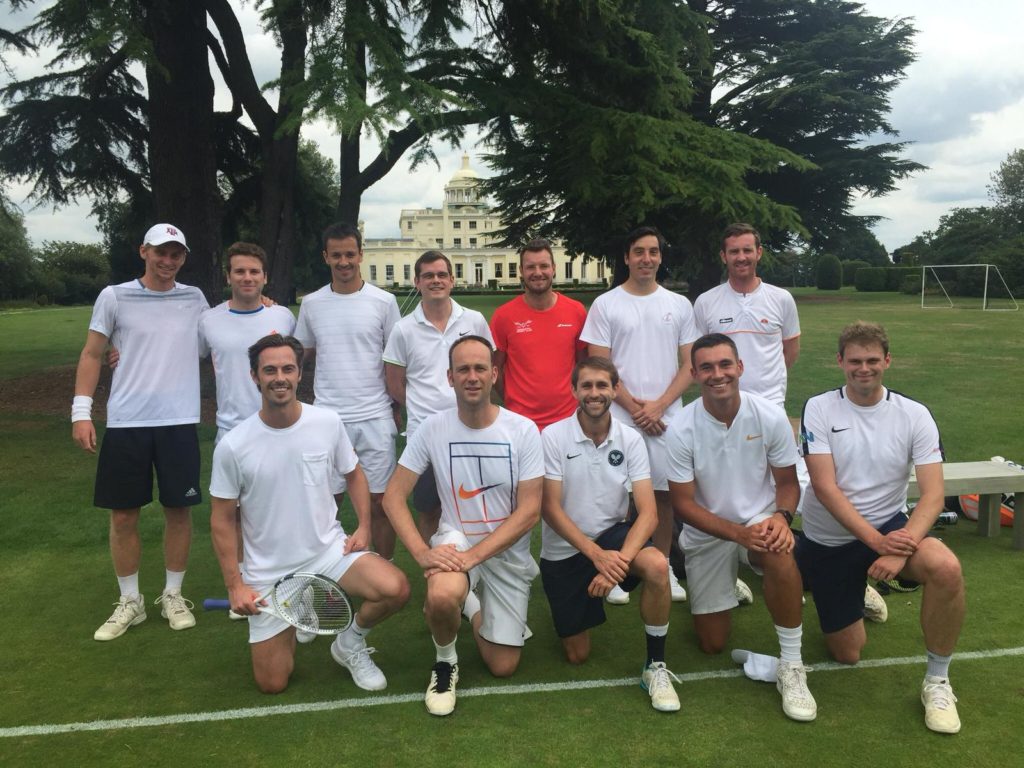 PSOBLTA team: Nick Ames, Tom Colautti, Ben Draper, James Marsalek, Jamie Muirhead and Nicholas Nugent
IC of GB team: Felipe Bunster, David Culshaw, Simon Dickson, Hugh Jacques, Barney Smith and Nathan Rooney
PSOBLTA 1st pair: Ben Draper and Nicholas Nugent
lost to Simon Dickson and Nathan Rooney 0-6, 1-6
lost to David Culshaw and Barney Smith 5-7, 5-7
beat Felipe Bunster and Hugh Jacques 6-2, 6-1
PSOBLTA 2nd pair: Tom Colautti and James Marsalek
lost to Simon Dickson and Nathan Rooney 7-5, 6-7, 6-10
lost to David Culshaw and Barney Smith 3-6, 6-7
beat Felipe Bunster and Hugh Jacques 6-4, 6-0
PSOBLTA 3rd pair: Nick Ames and Jamie Muirhead
lost to Simon Dickson and Nathan Rooney 1-6, 2-6
lost to David Culshaw and Barney Smith 2-6, 3-6
beat Felipe Bunster and Hugh Jacques 6-2, 6-2
Despite awful traffic from all directions the weather was glorious on the afternoon of Saturday, 3 August for another round of the PSOBLTA rivalry against the International Club of Great Britain. The fixture took place at the incredible Stoke Park. Once everyone had arrived and taken in the beauty and history of the surroundings it was down to business on the grass courts.
The first round was always likely to be key and the team got off to a flyer going a break up on two courts and a set up on another. However, unfortunately, by the end of the round it was only Ames & Muirhead who were able to take a win with Draper and Nugent losing in two close sets and Marsalek and Colautti losing in a third set champions tiebreak.
It is fair to say that the second round was a quicker affair and again unfortunately things did not fall in the teams favour. Draper and Nugent and Ames and Muirhead fell to the strong first and second pairs of the opposition while Marsalek and Colautti defeated the third pair.
This left the team in the uphill situation of needing all three matches from the final round. Draper and Nugent got off to a quick start defeating the third pair but unfortunately again the IC's first and second pairs were too strong when it mattered.
So overall it was a tough 6-3 loss with the IC's first and second pairs proving too strong and the difference on this occasion.
After nearly five hours of play and utilising the excellent facilities of the pavilion the teams enjoyed drinks and pizzas on the terrace. A great match on the grass in the sunshine but sadly one where revenge needs to be taken next year.
Nick Ames – PSOBLTA Team Captain