PSOBLTA v Eton College
Lost 6-3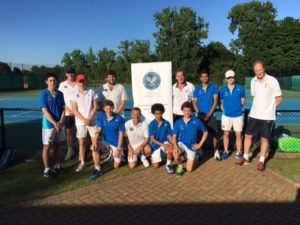 Driving down the M40 and catching Paul Wellers abrasive chords on the  playlist  "sup up your beer and collect your fags/ there's a row going on down near slough…", I should perhaps have been more cautious about the augurs but we had come to this moment on the back on successive defeats to the Boys and so were keen to re-establish the comforting familiarity of an old order of glorious victories, with a heightened confidence based on the knowledge that several of our nemeses had left the previous year.
And so, rather in the fashion of Napoléon marching his Grande Armee across the Niemen River to sort out the pesky impertinence of the Imperial  foe, we approached the fixture with a calm confidence and restrained optimism, only to encounter our first unexpected – and somewhat inexplicable –  set back courtesy of an unsecured ladder and the concomitant late withdrawal of the equally unsecured Pubs member.  We had lost our King before the first skirmish.  James Acheson-Gray, making his third attempt to play the fixture was secured the services of Luke, a  member of the home squad and for whom the strategies of hassle, interception and first volley were duly explained, illustrated and executed – unfortunately, more often by their opponents, although their growing understanding secured them a hard fought and tightly contested final rubber.
Following the pattern of the infamous 1812 campaign, we failed to secure any decisive early engagements (that's putting a rather benign slant to the first round of rubbers) and our indomitable first pair of Blackman and Jenkins developed a perfectly synchronised combination of ailments and physical disabilities which really should have distracted their opponents to a far greater degree than it actually did, but despite this they managed to bring home their remaining two rubbers.
Regrettably, not even the herculean efforts of our talismanic  JB could prevent the Warwickshire Tractor getting stuck in the mire of his own ineptitude (ok, it wasn't one of my best days) and despite Johnny's Sisyphean labours couldn't prevent the Eton boulder from rolling back to deflate his endeavours… As Weller concluded, "we came out of it naturally the worst".
Despite the result it was a hugely enjoyable late afternoon of tennis against another talented crop of young players, most of whom we shall probably have the pleasure of playing in the forthcoming couple of years – after all, Napoléon didn't let the disappointment of the 1812 campaign daunt him and he came back in 1815… The next generation of nemeses? – we shall see!!
As ever, many thanks to Glen Pierce for his sterling and unstinting support for this fixture – and the tea that accompanies it each year.  We shall start to plan the 2018 Campaign forthwith…
Final score : Pubs 3  Eton 6
PSOBLTA Team:
Adrian Blackman & Chris Jenkins
Johnny Barr & the Tractor
James Acheson-Gray & Luke Pitman (on loan for Chester)
Brad (the "Tractor") Keenes – PSOBLTA Match Manager