PSOBLTA v Beckenham LTC
Won 3-1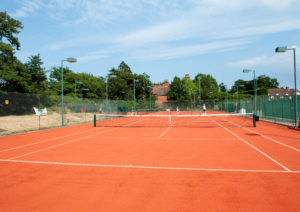 PSOBLTA team:
Edward Cooper, Russell Dykes, Ed Kandel and Brad Keenes
Success all round at Beckenham!
After a testing Summer it was great to have the Pubs back to winning ways with the inaugural fixture against Beckenham LTC.
Pubs talisman, Russell Dykes, and new member, Ed Kandel, opened proceedings by beating the Beckenham second pair with clinical precision in a match of great skill.  The clinical and skilled nature was not quite of the same calibre in the other match as Pubs stalwart, Brad Keenes, and fixtures secretary, Ed Cooper missed some golden chances to beat Beckenham's first pair – ending up losing 12-10 in a deciding championship tie break!
With all to play for, the second round went just in favour of the Pubs – managing a clean sweep to leave the fixture as a 3-1 victory.
It was an honour to be invited to play at such a prestigious and historic club – the match was played with great spirit and our opposition were excellent hosts and great competitors.
A huge thanks go to the sportsmanlike behaviour and welcoming nature of our opposition and a special mention to Jane Gorvett who was key to getting the fixture off the ground and for also providing us with a delicious match tea.  A further special thanks goes to Pubs member, Ben Gordon-Smith for his tireless effort to add new fixtures to the calendar.  This one being a great success thanks to his scouting.
Plans for a rematch are already underway where I am sure Beckenham will be looking to reverse the result!
Edward Cooper – PSOBLTA Match Manager