PSOBLTA v AELTC
Lost 4-0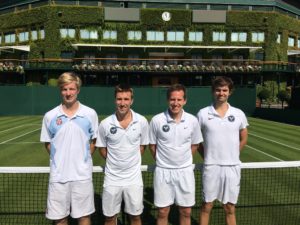 PSOBLTA team:
Alex Cole, Scott Creed, George Donnelly and Ben Gordon-Smith
AELTC team:
Phil Cliff, Jonathan Cooper, James Pringle and Stuart Rhodes
The 2017 contest for the prestigious Peter Jackson Cup took place on the hallowed turf of the All England Lawn Tennis Club in glorious sunny conditions.  Despite the score line, the PSOBLTA team contested four close matches against a strong AELTC side.
The first match saw PSOBLTA's Alex Cole and Scott Creed take on Phil Cliff and Stuart Rhodes which ended in defeat for the PSOBLTA pair 6-4, 6-3.  Meanwhile George Donnelly and Ben Gordon-Smith lost out 6-4 6-3 to the AELTC pair of Jonathan Cooper and James Pringle.
With nothing to lose going into the final leg of matches, Alex and Scott narrowly lost their match against Jonathan and James in a nail biting championship tie breaker in the third set.  George and Ben could not edge the win in the final match going down 6-3, 6-2 to Phil and Stuart.
A strong standard of tennis was enjoyed throughout the day which was played in the usual fantastic spirit the sides have come to enjoy in this fixture.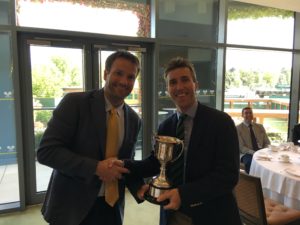 After the match, the wonderful hospitality of the AELTC was in full swing where the PSOBLTA team enjoyed afternoon tea in the Rolex Suite accompanied by a tough tennis quiz led by Stuart Rhodes as AELTC Captain.  Sadly the PSOBLTA lost the quiz on the tie breaker question giving the AELTC a clean sweep on the day.
As ever the PSOBLTA is eternally grateful for the AELTC's support of this most prestigious of fixtures in our calendar.  We look forward to the chance next year of fighting once more to return the Peter Jackson Cup to the PSOBLTA.
Ben Gordon-Smith – PSOBLTA Match Manager